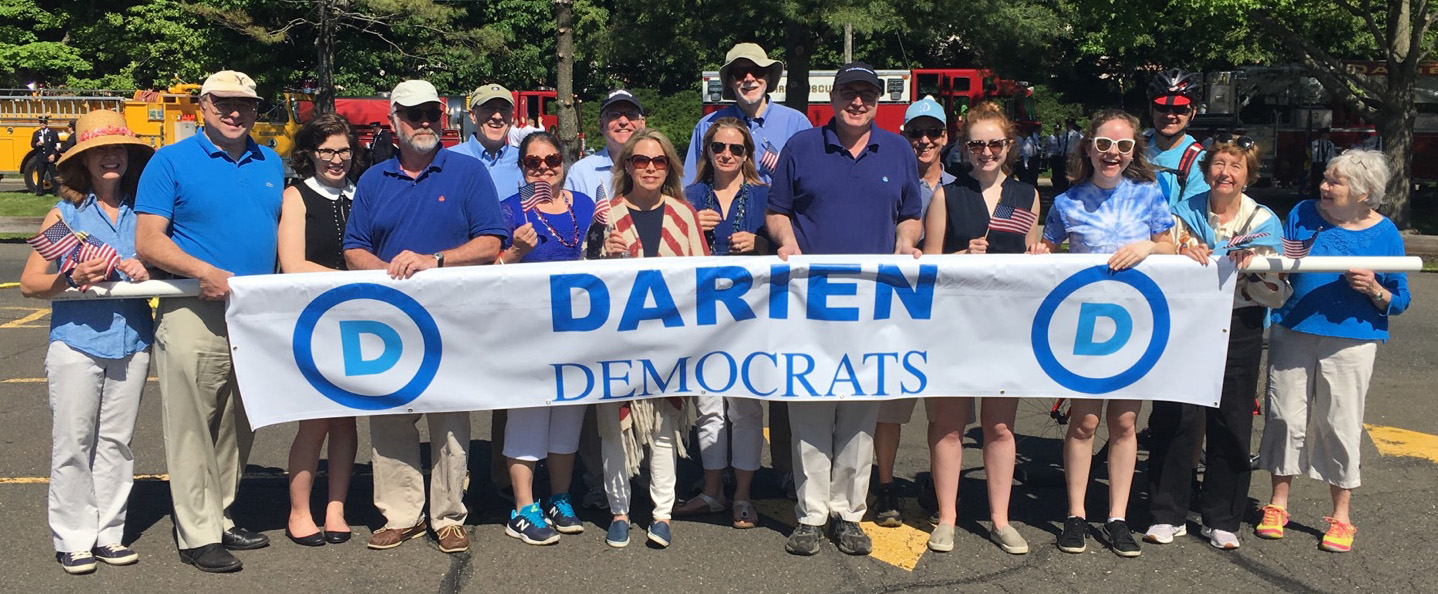 The Darien Democrats are back and we want you to march in the Memorial Day parade with us next Monday morning, May 31.
As many of you may recall, we did this in 2019 and it was a smashing success – so much so that the RTC is copying us and marching this year. We would love a good turnout to reflect our increased presence in town, so please join us.
Please plan to meet us in the Goodwives Shopping Center parking lot by 9:30am. Parade steps off at 10am. We'll probably exit the parking lot about 10:30. We should reach the end of the route by 11:30. You can be home by noon.
A few quick notes:
ALL ARE WELCOME. DTC members and all Democrats, spouses, kids, everyone. Have friends or family visiting from out-of-town? Tell them "Yes, we can!" Dems from nearby towns without a parade? Bring them along too! Kids can ride scooters. Strong turnout essential.
If possible, please respond to info@dariendemocrats.com with a headcount of your attendees. But walk-in are welcome on Monday morning too.
PLEASE WEAR BLUE! Best option is a blue top and white / light pants or shorts. But really, anything blue will do.
Best parking option is probably Mechanic St. parking lot, behind the Darien Fire Dep't.
The complete 2021 parade marcher instructions are listed below.
Note our impressive and professional signage! You may be invited to carry the banner identifying our group as the Darien Democrats! Let Frank know if you're interested! Kids will love it!
Feel free to bring American flags, but no overt political signs or messaging. It is not in keeping with the solemnity of the day.
Bring sunscreen!
I hope to see many of you next Monday morning.
David
MEMORIAL DAY PARADE & CEREMONY INSTRUCTIONS
Monday, May 31, 2021
ASSEMBLY: All units assemble at Goodwives Shopping Center at 9:00 AM. Signs will indicate where each division assembles. Marchers must be in position by 9:30 AM. Step off is 10 AM SHARP.
PARKING: Police will direct traffic. The Goodwives Shopping Center parking lot is for shoppers and parade vehicles only. There is NO parade parking. Park at the YWCA, First Congregational Church, or the Mechanic Street lot behind the Darien Fire Station
CHILDREN'S MARCHING UNITS: If you are dropping off a child, the child's group must have an adult in place. Parents with children will not be allowed to linger or park their car. This causes congestion and unsafe conditions. **Parents who must wait with their child, because no adult is in place, are required to park their car, and walk their child back to the assembly area.**
IMPORTANT: Please advise everyone in your organization about these parking rules. Rules are for the safety of our marchers and for the safety of our children!
Since social-distancing will not be practical, please wear a mask while in the assembly area.
—————-
Parade Route: Goodwives Shopping Center to Brookside Road to Post Road. At Parade's end, continue on Post Road PAST Hecker Avenue to the Post Road entrance to Spring Grove Cemetery, vehicles stay to the left and walkers to the right. Vehicles are not permitted to stop and must continue straight past Cemetery.
Length of Parade Approximately 1.25 miles. Make sure all marchers are able to complete the parade.
Marching Parade Officials will maintain a uniform cadence and a steady forward march at all times. All units will maintain a reasonable distance from the unit in front of them. All marching units will march at least six (6) abreast, with the exception of color guards. NO PETS ARE ALLOWED IN THE PARADE!
Reviewing Stand Is located in front of Nielsen's Florist on the Post Road where the parade will be reviewed by the Grand Marshal and other dignitaries.
Cemetery Ceremony Please join us at the Connecticut Veterans' Cemetery to pay respect to the military people who have preserved our freedom with the ultimate sacrifice.
Emergencies In case of emergency the parade will move to the right side of the road and the necessary vehicles will pass on the left side of the road.
Other NO alcoholic beverages are permitted in the Assembly Area, along the Parade Route, or during the Ceremony. NO throwing of candy, toys, or any other items in Assembly Area or along Parade Route. Violators will be removed.
The parade is a procession to the Connecticut Veterans' Cemetery to honor those who died in service of our country. The spirit of the parade is to celebrate the lives of our war dead. Participants are encouraged to identify the organizations they represent but are requested to refrain from advertisements or promotion of events that have nothing to do with Memorial Day.